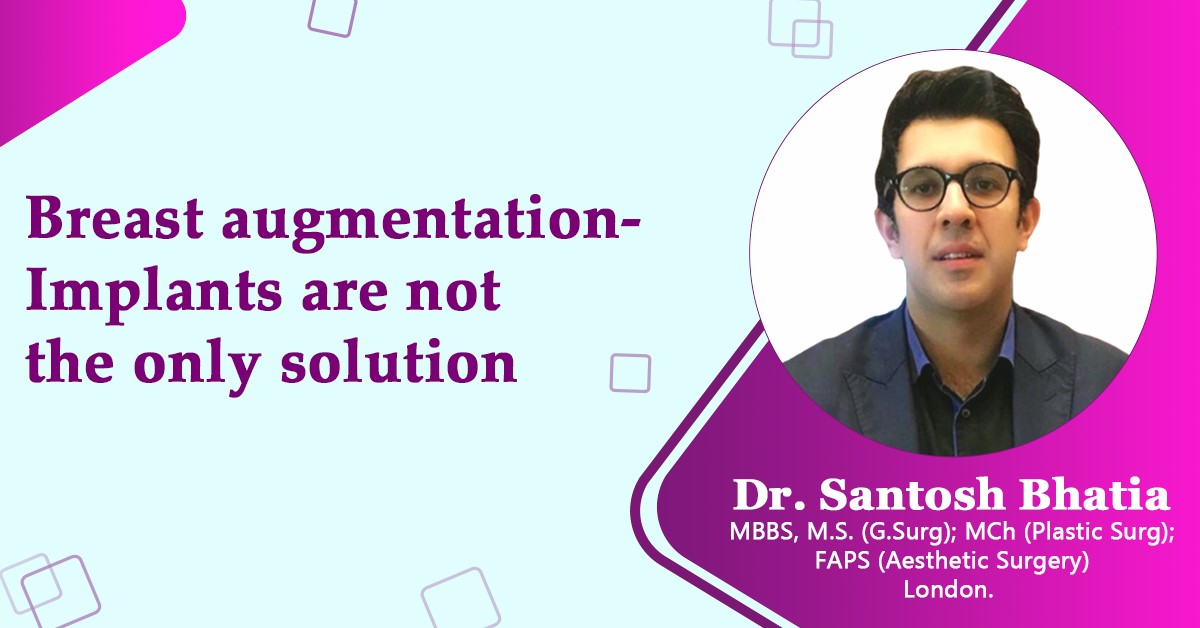 Breast augmentation- Implants are not the only solution
According to recent data, more women than ever before are opting for some type of breast enhancement procedure. Traditionally, women think of getting implants as the only way to enhance the look of their breasts, increase the size of the breasts, or alter their shape. 
Breast augmentation is also referred to as augmentation mammoplasty. It is an elective cosmetic surgical procedure that aims to increase the size, shape, or fullness of the breast.1
Breast augmentation can be performed either through the transfer of fat from an area of your body or, more commonly, through surgically inserting breast implants.2

A breast implant is a medical device that is surgically implanted into the breast to augment, reconstruct, or create the physical form of the breast. Implants are typically soft, flexible silicone shells that are filled with either saline or silicone. Saline shells filled with sterile salt water are known as saline-filled implants. Some of the implants are pre-filled, while others are filled during the implant procedure. Silicone gel-filled implants are silicone shells filled with a plastic gel.  1, 2, 3
Although breast implants continue to be one of the most popular cosmetic surgery procedures, several other methods emerge for breast augmentation.
Fat transfer breast augmentation- An emerging breast reconstruction technique

There is a new alternative to implants that involves enhancing breast tissue with its fat cells.
Fat transfer breast augmentation is a surgery that uses fat from another portion of the patient's body, such as the thighs, abdomen, or buttocks, to increase breast volume.4
It is also called fat grafting. It is a prolonged process involving multiple injection procedures, and the result is free of surgery or scarring.
Breast augmentation is commonly done to 1, 5
Enlarge naturally small breasts

Restore symmetry when the breasts are asymmetrical

Improve the balance of breast and hip contours

Breast size and shape can be restored following pregnancy, weight loss or breastfeeding
Procedure for fat transfer breast augmentation
Step 1: Tissue expansion 5, 6
Initially, an external tissue expander called a Brava device is worn for several weeks before and after the fat grafting. Women might use this tissue-expansion device to prepare for successful fat grafting in the breasts, depending on the anatomy and recommendation of the doctor.
The Brava device is like a bra with plastic cones for cups. It's a battery-operated device that gently pulls on the breasts, extending the tissue and prepping it for future surgeries. The cones put suction on the breast area to expand the tissue and create a matrix for the fat to live in. The device creates a negative pressure or vacuum that helps boost blood supply to the area where fat is injected. It also softens the surrounding tissues, allowing for additional fat transfer.
Step 2: Fat grafting 5, 6
A plastic surgeon harvests a patient's fat via liposuction. Further, the oil and blood are removed from the fat. The surgeon next injects it into the tissues of the breast.
Surgeons take special care to ensure that the fat that is being transplanted has an adequate blood supply. The surgeon then injects small amounts in tissues throughout the breast area. Without this, the fat will get absorbed, and the patient will not achieve the intended long-term benefit. Furthermore, if doctors transfer too much fat at once, the fat may die and liquefy, resulting in an oil cyst underneath the skin that causes irritation.
It is also crucial to be aware that the fat injected into the breast area may be reabsorbed by the body over time, resulting in loss of volume in the breast. As a result, some plastic surgeons may initially add more fat than required.
Here are some advantages of the fat transfer breast augmentation method: 7
There are almost no scars; only 4-millimetre incisions are made to remove (liposuction) and re-inject the fat during the fat transfer procedure.

The procedure creates a modest increase in size using the fat that's harvested from the own body, with minimal risk of an allergic reaction or infections. 

There isn't a higher risk of complications that comes with a breast implant, such as risks of rupturing.

There is no necessary maintenance with fat grafting as compared to breast implants.

Breasts look and feel completely natural. 

Good safety record

Both patients and doctors are satisfied with the outcomes
 However, there are some limitations to this method: 7
Not considered a standard technique.

Only

half to one cup size is increased.

A breast lift may still be required.

It is possible for fat to be reabsorbed

Calcifications may interfere with breast cancer imaging

It just requires enough spare fat to transfer

Fat necrosis (small hard masses which can be mistaken for cancer) might last a short period or permanently.
Conclusion:
Women can use both breast implants and fat injection to assist them in obtaining a more visually appealing size, shape, or level for their breasts. Recently, fat transfer breast augmentation has dramatically changed the breast's indications in plastic, reconstructive, and aesthetic surgery because of its low complication rate, great results, and patient acceptance of the treatment.
References: