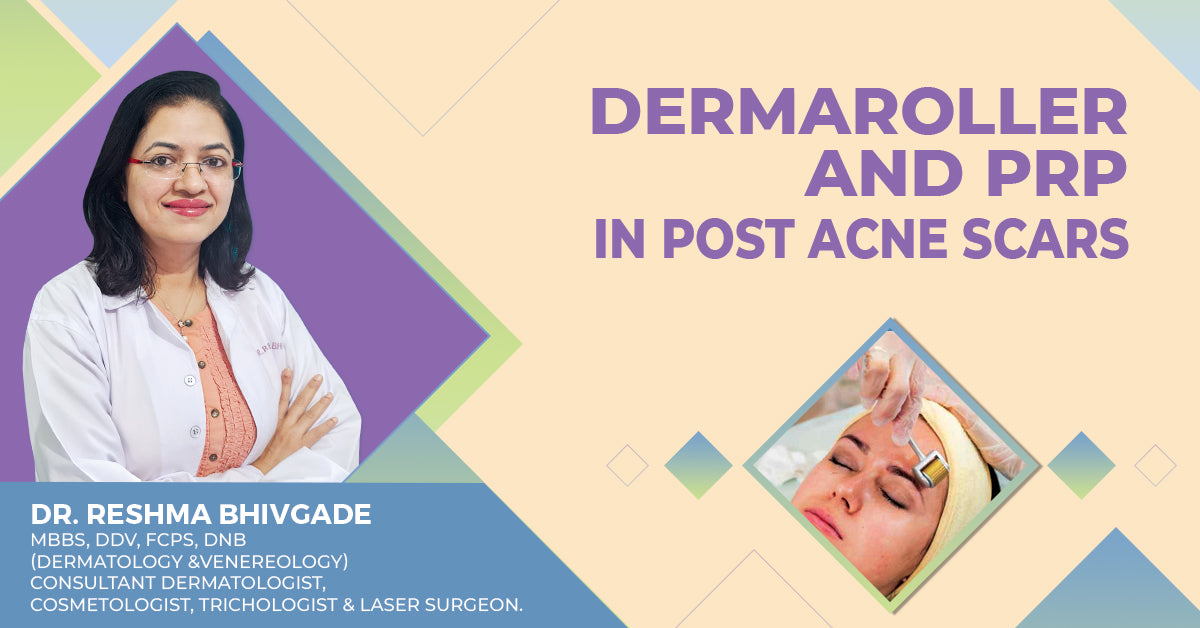 Dermaroller and PRP in Post Acne Scars
Everyone wants glowing, flawless skin. However, for many of us, it is hard to get there, especially when one has acne.
Acne is the 8th most common skin disease worldwide. And the number of people who get adult acne has gone up over the past two decades— especially in females.1, 2
Though it occurs at any age, it commonly affects teenagers and young adults.3 Acne breakouts are often exasperating when it penetrates the skin deeply and damages tissue beneath it. However, unwelcome they may be, the body tries to repair this damage and may leave scars.4
Acne scars are often considered as an unwanted reminder of a painful and bothersome condition which can lead to a lack of self-confidence, feeling of depression and anxiety, refusing to socialize, and low self-esteem.5 However, acne scars do not have to be permanent as some medical treatments can help get rid of them.
Nowadays, numbers of procedures are performed by dermatologists for post-acne treatment, and dermarolling is one of them.
What is dermarolling, and how it performs?

Derma roller, also known as Microneedling is a simple office-based procedure. It is performed in the following manner: 7
Initially, the Treatment area needs to be is numbed or anaesthetized with topical anaesthetic cream for 45 minutes-1 hour.

Cleansing of the treatment area is done with antiseptics.

With the help of a dermaroller scared area is treated by rolling it 15-20 times in horizontal, vertical, and oblique directions with the needles usually in length of 0.5-1.5mm., depending on the area to be treated and depth of the scar. (Fig.2)

The entire procedure lasts for 15 to 20 minutes, depending on the extent of the area to be treated.

After treatment, soothing lotion or creams are applied.
How does it work?

During treatment, the needles puncture the skin and create a controlled skin injury without damaging the epidermis. (Fig.3) This further triggers release of growth factors which stimulate the formation of natural collagen and dermal elastin in the papillary dermis. Further, new blood vessels form in the skin. Remodelling of collagen and thickening of the epidermis and dermis takes place, leading to healing of scars. Additionally, skin needling also creates small channels which increase the absorption of topically applied preparations.7 Currently, dermarolling is also used as a way to deliver therapeutic drugs through the skin.
Dermarolling with platelet-rich plasma

Although there are many options available for treating post-acne scars, they remain challenging for dermatologists. At present, dermarolling with plasma-rich platelets (PRP) is gaining attention in routine dermatological practice.
Dermarolling with PRP is the latest cosmetic procedure that stimulates collagen production by rolling fine needles over the skin and applying platelets, which are one of the components of blood.6
PRP is an autologous preparation of human platelets contained in a small volume of plasma. It includes proteins containing several active growth factors and cytokines that promote skin tissue repair with cell differentiation, proliferation, and regeneration.6
After performing microneedling procedure to prick the skin, and making tiny holes in the skin's surface, dermatologists may then apply PRP to these tiny holes to encourage collagen production and cell reproduction. People usually respond well to microneedling treatments and require only minimal recovery time.9
Benefits of PRP 6,

Improves the healing

Decrease the duration of redness

Reduces swelling seen after microneedling

Speeds up the healing process

Stimulate skin renewal

Potentially producing better results than microneedling alone

Higher patients' satisfaction
People with acne scars may notice a gradual improvement in the skin in less than nine months.
Limitations9
Microneedling, with the addition of the PRP treatment, increases treatment cost much higher. Mild bruising and inflammation and redness are the most common side effects. Other side effects may include oozing swelling, milia, which are white papules in the skin and a mild flare-up of acne. It typically appears immediately after the procedure and expected to clear within four to six days. Dermarollers should not be used on areas of skin that have eczema, sunburn, or cold sores.
Conclusion
Acne scars may improve on their own over time. However, they are still permanent unless treatment measures are taken. Dermarolling with PRP is generally a safe and effective procedure that can improve the appearance of the skin with reduction of acne scars.
It is a safe alternative to patients who cannot undergo laser treatment for scar reduction or those who have contraindications for same.
Reference
Rocha, MA, Bagatin E. Adult-onset acne: prevalence, impact, and management challenges. Clin Cosmet Investig Dermatol. 2018;11:59-69.

Tanghetti EA, Kawata AK, Daniels SR, Yeomans K, Burk CT, Callender VD. Understanding the burden of adult female acne. J Clin Aesthet Dermatol. 2014;7(2):22-30.

What you need to know about acne, Available at:

https://www.medicalnewstoday.com/articles/107146

, last accessed on 4th

November 2020.

Acne scars: who gets and causes,

https://www.aad.org/public/diseases/acne/derm-treat/scars/causes#:~:text=What%20causes%20acne%20scars%3F,that%20gives%20the%20skin%20support

. Last accessed on 4th

November 2020.

The Psychosocial Impact of Post-Acne Scarring, Available at

https://www.the-dermatologist.com/content/psychosocial-impact-post-acne-scarring#:~:text=Studies%20on%20the%20psychosocial%20impact,and%20lack%20of%20self%2Dconfidence.&text=Furthermore%2C%20acne%20is%20associated%20with,body%20and%20lower%20self%2Dworth

, last accessed on 4th

November 2020.

Everything you need to know about microneedling with PRP,

https://www.medicalnewstoday.com/articles/327381

, last accessed on 4th

November 2020.

Doddaballapur S. Microneedling with dermaroller. J Cutan Aesthet Surg. 2009;2(2):110-111.

Jumale VP et al. Role of Dermaroller and PRP In Post-Traumatic Facial Scar Treatments, Int. J. Res. Pharm. Sci., 2020, 11(3), 4061-4067

What to Expect from Microneedling with Platelet-Rich Plasma (PRP),

https://www.healthline.com/health/beauty-skin-care/microneedling-with-prp#side-effects-and-complications

, last accessed on 4th

November 2020.