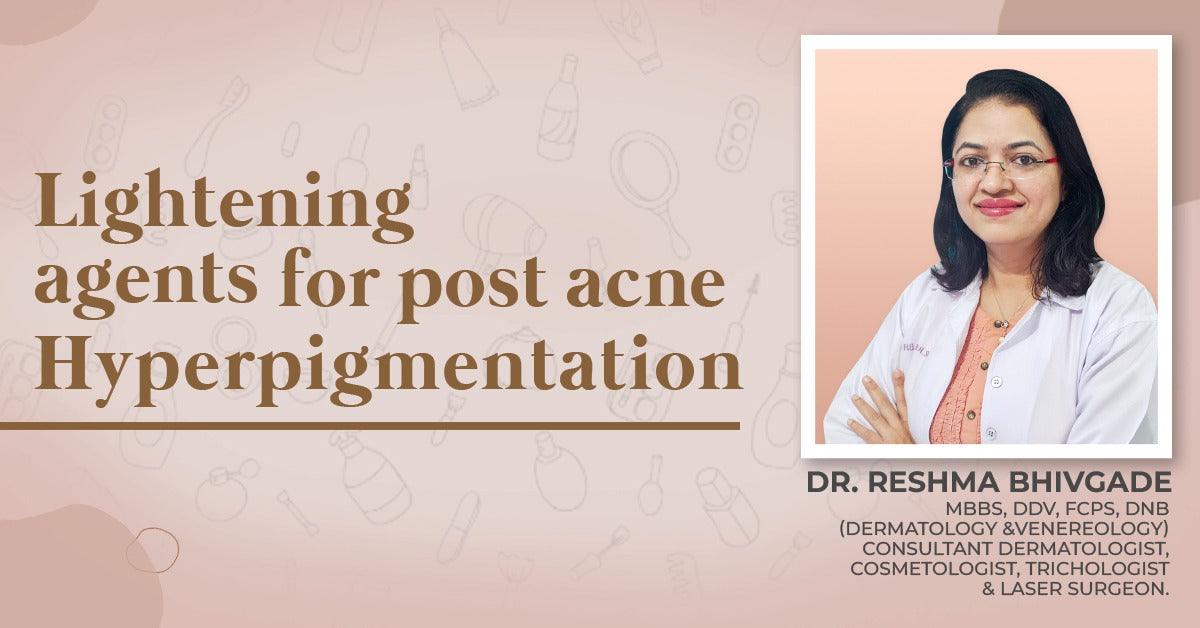 Lightening agents for post-acne hyperpigmentation
No one likes spots on their skin. However, hyperpigmentation is a common skin condition that thwarts the goal of flawless, glowing, beautiful skin. While it occurs in every skin tone, it is one of the top skincare concerns in dermatology.
Hyperpigmentation is not inevitably a condition but a term that describes the skin that appears darker than usual. It occurs when one has more melanin, a substance in the body responsible for your skin color.1
Acne-related hyperpigmentation is the dark marks or spots left behind after a pimple fade away, can be even more aggravating and distressing than pimples themselves.2
Even if hyperpigmentation is not harmful, it can be exasperating to deal with. Here are some tips one need to consider:
Be gentle with your skin3
Picking and scratching at a mark will only cause the inflammation that's responsible for skin discoloration. Avoid squeezing or scratching the acne spots.
Monitor your skin for irritation or discoloration4
If skincare product is triggering discoloration, switching to a gentle product that does not irritate the skin can halt new dark spots from developing and allow existing spots to clear.
Fading can take time4
Fading can take time once you discontinue what is causing the dark spots or patches. A spot that is a few shades darker than the skin will usually fade within 6 to 12 months.
On the other hand, if the color lies deep in the skin; however, fading can take years. Deep down discoloration in the skin is frequently slate brown, making the skin much darker than natural skin color.
Nonetheless, treatment can fasten fading of dark spots and patches.
Keep Skin Moist to Boost Cell Turnover3
While approaching the pigment issues, it can be beneficial to use a suitable product such as moisturizing agents like glycerin or hyaluronic acid, and maybe even retinol to increase cell turnover. These inactive ingredients permit the active brighteners to work more effectively. A good moisturizer can also restore the skin's fat barrier, further protecting it from the sun's damaging rays.
Effective treatment begins with sunscreen3, 4
Dark spots, mainly acne-related, can be persistent in getting rid of and can get worse if you do not use sunscreen.
Whether one is treating the dark spots on their own or seeing a dermatologist, sunscreen is essential. Using sunscreen daily can help in preventing further darkening.
To get the protection you need, use a sunscreen that offers SPF 30 or higher, broad-spectrum protection, and zinc oxide or titanium dioxide.
For oily skin, looking for the words "won't clog pores" or "non-comedogenic" can help avoid breakouts, which could cause more dark spots.
Skin lightening agents can be helpful to treat post-acne hyperpigmentation
Skin-lightening products are likely to be more effective after eliminating the cause of discoloration and protecting the skin from sunlight. When selecting a skin-lightener, go for a product that contains one of the following ingredients:
Vitamin C

2% hydroquinone

Azelaic acid

Alpha hydroxy acids (AHAs)

Kojic acid

Retinoid (retinol, tretinoin, adapalene gel, or tazarotene)
These ingredients can lighten existing spots. In some cases, the ingredient can also halt melanin's production that causes dark spots and patches.
1. Vitamin C
Vitamin C is a powerful antioxidant that helps keep both the inside and outside of your body healthy. It is also known as ascorbic acid. It bears endless benefits, including brightening and revitalizing the skin while stimulating the production of collagen. By acting as a reducing agent at various oxidative steps, it helps in inhibiting melanin formation.
Vitamin C helps break up and lighten pigmentation spots that you already have and prevents dark spots from forming in the future.
Vitamin C is considered safe for all skin tones. One may obtain the benefits of vitamin C as a lightening agent in both pure and combination form.5, 6
2. Hydroquinone
Hydroquinone is a bleaching agent that supports getting rid of dark spots and slowing down melanin release. It works by blocking the enzyme responsible for melanin production, thereby lightening the skin.
This ingredient works best for darker spots on all skin tones. To prevent the unwanted lightening of your natural skin color, creams should be carefully applied to darkened areas only. It may lead to skin irritation; one may need to evade it if one may have sensitive skin.
Hydroquinone creams often contain additional lightening ingredients. Combination with kojic acid, glycolic acid, tretinoin and other retinoids, or vitamin C can better results than hydroquinone alone. Hydroquinone is available as a prescription, but you might consider less harsh OTC options first. 2, 5, 6
3. Azelaic acid
Azelaic acid is known for its anti-inflammatory benefits, and it may be a good option for both active acne and related hyperpigmentation. It works by decreasing inflammation and speeding up cell turnover rates. Azelaic acid is sometimes used in combination with glycolic acid or tretinoin. This may also work well for raised brown spots.
However, there is a risk for hypopigmentation. It is a good alternative for those who may be unable to use hydroquinone.2,5
Azelaic acid is available by prescription only.
4. Alpha Hydroxy Acids (AHAs)
Alpha hydroxy acids, particularly glycolic acid, can be a good option to start with. AHAs supports speed up the natural exfoliation process of the skin and further improve the look.
Mandelic acid is a type of alpha-hydroxy acid (AHA) that's made from almonds. It is often combined with other ingredients as an anti-ageing treatment for wrinkles and uneven skin tone. This acid may also be used to treat inflammatory acne.
One can find these ingredients as OTC "brightening" treatments. Leave-on treatments such as lotions, creams, and gels offer better results than wash-off products like cleansers. Other OTC ingredients that can help fade hyperpigmentation are N-acetyl glucosamine, niacinamide, and vitamins A and C. 5, 6
Stronger AHAs treatments are available with a prescription.
5. Kojic acid
Kojic acid is considered a natural bleaching agent. It is frequently used for treating age spots. Hence, it can be used for brown-colored pigmentation from acne.2
6. Retinoids
Retinoids are compounds made from vitamin A. These acts by going deep beneath the skin to even out skin tone and texture. Retinoids exhibit various biological effects that result in skin lightening, including the modulation of cell proliferation, differentiation, and cohesiveness; and anti-inflammatory properties.
It allows the skin to shed old cells that clog the pores and prompts them to generate new cells. Therefore, an important factor to lighten and even out the skin tone is clearing the pores and stimulating cell regeneration. 2, 5, 6
Retinoids are available via prescription and OTC remedies.
Ask the dermatologists
If topical solutions are not fixing the problem, you may want to talk to your dermatologist about more aggressive ways to banish discoloration or high technology options such as chemical peels, microdermabrasion, or dermabrasion or a laser or a light-based procedure.3, 4
Reference:
What is hyperpigmentation?, Available at: https://www.webmd.com/skin-problems-and-treatments/qa/what-is-hyperpigmentation, Last accessed on 2nd January, 2021
How to Treat Acne-Related Hyperpigmentation, Available at: https://www.healthline.com/health/beauty-skin-care/hyperpigmentation-acne, Last accessed on 2nd January, 2021
5 Doctor-Approved Ways to Get Rid of Hyperpigmentation for Good, Available at: https://www.everydayhealth.com/beauty-pictures/tricks-to-treat-hyperpigmentation.aspx, Last accessed on 2nd January, 2021
How to fade dark spots in the skin of color, Available at: https://www.aad.org/public/everyday-care/skin-care-secrets/routine/fade-dark-spots, Last accessed on 2nd January, 2021
Post-Inflammatory Hyperpigmentation and Acne, Available at: https://www.verywellhealth.com/post-inflammatory-hyperpigmentation-15606#treatment-options, Last accessed on 2nd January, 2021
Davis EC, Callender VD. Postinflammatory hyperpigmentation: a review of the epidemiology, clinical features, and treatment options in skin color. J Clin Aesthet Dermatol. 2010;3(7):20-31.
Available at: Last accessed on 2nd January, 2021