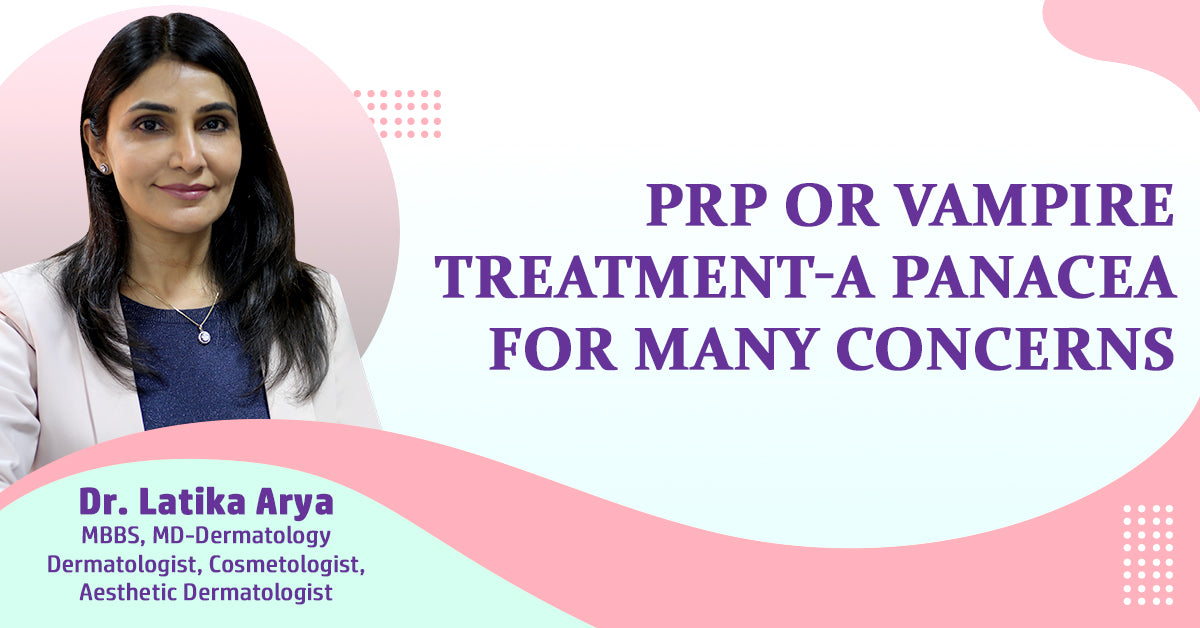 PRP or Vampire treatment-A panacea for many concerns
As we age, our skin visibly changes in several ways. It becomes rough, dry and slack. Along with wrinkles, fine lines and age spots, saggy skin is also an age-related concern for many people. No one can stop the clock absolutely, but there are preventive approaches and clinical solutions for tightening up the aging skin.
Sagging skin is caused by several factors, including thinning of the epidermis (the surface of the skin) and loss of collagen.1
Why skin sags? 2
As one ages, the production of collagen protein reduces, and skin becomes less elastic, and wrinkles start to become noticeable.
Along with a reduction in collagen levels, the natural amount of fat in the deeper layers of the skin also decreases, creating volume loss and skin sagging.
Fortunately, non-surgical skin tightening treatments are available which can restore a firmer, smoother, more youthful appearance with little to no downtime. One of the treatments is platelet-rich plasma facelift.
Platelet-rich plasma (PRP) facelift, also known as vampire facelift is a new, non- invasive, office-based procedure that uses the patient's PRP and dermal fillers to potentially treat the signs of aging.3, 4
Procedure for platelet-rich plasma3
The following three steps are used in PRP therapy (Fig.1):
Step 1 involves the collection of the patient's blood under all aseptic conditions. Blood is first drawn from the patient's arm and put in tubes lined with an anticoagulant to yield PRP.
Step 2 includes placing blood into a centrifuge for platelet separation. A centrifuge is a machine that spins rapidly to separate fluids of different densities. After around 10-15 minutes in the centrifuge, blood will have separated into three layers:
Platelet-poor plasma (PPP) is in the supernatant

Platelet-rich plasma is a buffy coat layer that appears in the middle where platelets and leukocytes are concentrated

Red blood cells at the bottom
Step 3 involves filling PRP into syringes and injecting PRP into affected areas. The dermal filler is typically injected just before the PRP or in a separate session.
The time for platelet concentrate preparation can typically be completed in less than 1 hour.
 How does it work? 3
Plasma is rich in proteins, and it carries nutrients, protein, and hormones to the rest of the body. It also contains growth factors, which can increase cell turnover, collagen production, and elastin for firmer, younger-looking skin.
The combination of hyaluronic acid fillers and PRP can manage even deeper folds and wrinkles, turn out a softer and significantly more youthful appearance that can last for 9-12 months. The procedure may
Reduce wrinkles

Lift sagging skin

Get rid of deep creases

Diminish acne scars

Brighten dull skin
How does it differ from a vampire facial? 4
Vampire facelifts and vampire facials are similar treatments with a slight difference
A vampire facelift involves injecting PRP into the skin and combined with a hyaluronic acid filler. Its results can be seen immediately because of the instant plumping and smoothing effects of fillers.

On the other hand, Vampire facials combine microneedling, which uses tiny needles to make almost undetectable pricks in the skin. This leads to passive absorption of PRP into the superficial layers of skin, and the results are milder than the Vampire facelift.
Are there any risks involved? 3, 4
PRP treatment is usually considered safe for a majority of people because it uses the person's own blood for the procedure. However, it is not suggested for those who have certain medical conditions:
Hepatitis C

HIV or AIDS

Any type of blood cancer

Cardiovascular disease, which requires taking a blood thinner

Skin cancer in the area to be treated
There can be side effects of the procedure such as swelling, itching, bruising, tingling or slight burning sensation.
Conclusion:
Occasionally, skin signs that come with aging can make one feel more self-conscious about one's appearance. PRP can improve the skin's overall glow, and when combined with fillers, instantly smoothes wrinkles and creases. But it is also essential to find a trusted dermatologist or plastic surgeon to perform the procedure.
Reference: