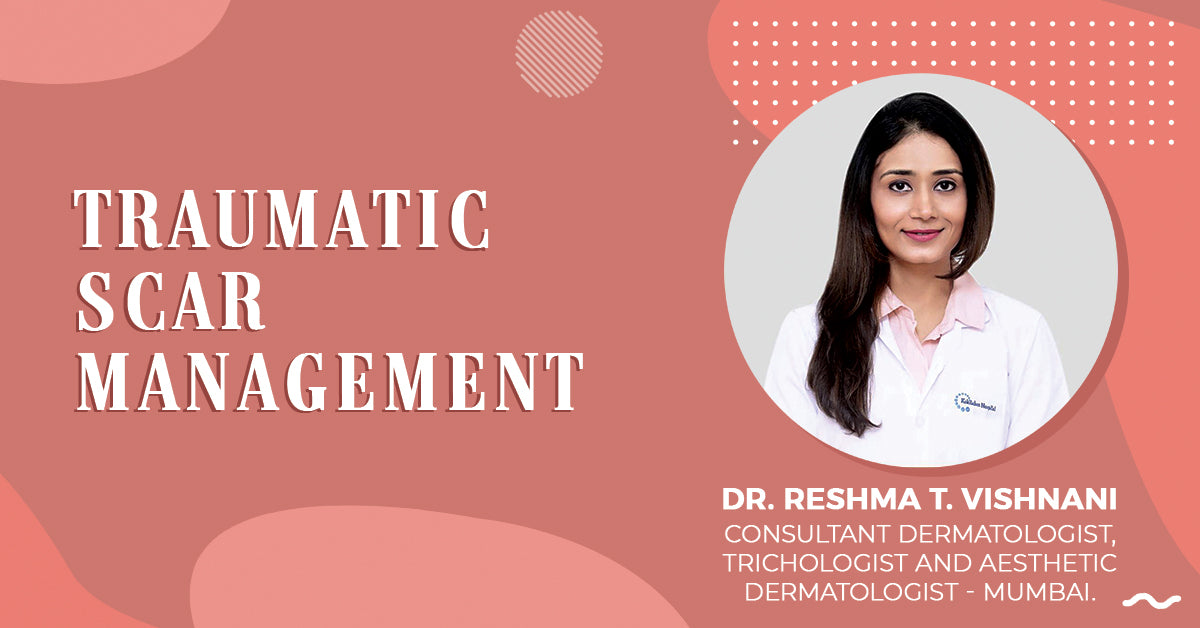 Traumatic Scar management
Skin is a seamless organ which has a protective function in humans.1,2 But, unfortunately, the skin is also one of the most vulnerable organs and can be easily damaged.2  It's like with a piece of silk; just one tear can make a big difference in its looks. The same is true for our skin.
Scars are areas of fibrous or other tissue which replaces the normal skin after injury or surgery. It is a natural part of the healing process of the body. Also, no two scars are the same and, scars heal differently in each person.3
What is a traumatic scar?
Traumatic scars occur as a result of healing after a significant injury to the skin. There are many sources of injury, such as sharp objects that penetrate the skin, thermal or chemical burns, and friction or scraping to the skin.4
Traumatic scarring affects tens of millions of people worldwide every year. It reduces the quality of life due to disfigurement, pain, itching, and restricted motion.
Based on the histological and morphological characteristics, traumatic scars are classified as hypertrophic scars, atrophic scars, flat (superficial) scars or keloid scars. They are also classified as mature and immature scars based on the growth phase, and linear and widespread scars based on the morphology. The most common type of traumatic scars, a hypertrophic scar is reported as high as 70% after burn injury.6
The change in appearance due to scar can negatively affect body image and self-confidence. It leads to a change in the emotional state of a person, and these people are more prone to the development of depression and anxiety. All these lead to strained social interactions which result in short communication, reduced intimacy, and avoidant behaviours. Thus, people should take the necessary steps to get relief from the physical, emotional, and psychological marks caused by scars. Cognitive behavioural therapy (CBT) improves the psychological symptoms associated with scarring.7.
There is no cure for traumatic scarring, so injury prevention and effective early wound care are essential to minimize scar formation. Physical therapy, pressure, and other treatments can help minimize contracture formation after injury.4
What can you do to heal a scar?
Avoid Smoking:
As it delays the healing process. Smoking or hukkah should be avoided in both active and passive forms. In people who smoke, scars do not heal aesthetically that well as compared to  those  who don't smoke.3
Protect the scar from sunlight:
A scar is very susceptible to strong sunlight and can burn easily, so try and avoid exposing the scar to the sun. After the injury, one should use a strong sunblock (≥SPF 50) on the scar for 18 months, even when indoors. Later, use a regular SPF of ≥30 before going out in sunlight.  Sunscreens should be applied 20 to 30 minutes before stepping out and reapplied every  2.5 to 3 hours.  Use a  "water-resistant" sunscreen for water activities and reapply it every 40 to 80 minutes. Wearing long-sleeved shirts and shorts can also give some protection. If one has facial scars, wear a hat or cover the face with a scarf to protect the scar.3,8
Exercise:
Before getting discharged from the hospital, doctors will advise when it will be safe to resume exercise. It also includes the type of exercises one needs to do to avoid contracture formation and stiffness.3
Massage your scar
Massaging can help in getting relief from itchiness and help to flatten the scar. Use any cream, lotion, or oil for the massage. It is advised to use a non-perfumed moisturizing cream as it helps to reduce the friction on the skin while massaging.3,8
What are the treatment options?
Effective traumatic scar management includes:
First-line non-surgical treatment options includes:

2
Pressure therapy:

Used widely for better wound healing. Its best used within the first few months of injury to avoid the scar from becoming hypertrophic or keloidal.

Silicone gels and sheets:

It is considered as the first-line prophylactic and treatment for hypertrophic scars and keloids. The silicone products can prevent excessive scar formation by restoring the water barrier through occlusion and hydration of the upper layers of the skin. Use it as soon as the wound is healed.

5
Intralesional corticosteroids and intralesional 5-fluorouracil:

Are mostly used as intralesional injections for keloids.

9
Laser therapy:

 

Would be beneficial in both the speed of scar reduction and the efficacy of therapeutic response.9
2020 International Consensus Recommendations suggested lasers are the first-line therapy for the management of traumatic scars and contractures. Over 90% of the panelists would prefer to begin with laser treatment within four months or less, and 76% within two months or less for larger traumatic injuries such as burns. Also, it is never too late to start the laser treatment for traumatic scars. Ablative fractional lasers (AFL) is the most effective laser type for management of hypertrophic scars and contractures. For atrophic traumatic scars, AFLs and non‐ablative fractional lasers (NAFL)are the initial treatment considered. Laser treatment can be combined with other methods such as hyaluronic acid  fillers, subcision, and surgical revision in the presence of significant volume deficits.10
It is recommended that after 4-8 weeks of surgery, scars should always be re-evaluated to determine whether additional scar management interventions are required or whether preventive therapy can be terminated.5
Reference:
Cosmetic Procedures: Scars, https://www.webmd.com/beauty/cosmetic-procedures-scars#1, last accessed on 17th August 2020.

Prevention and treatment of scars, https://research.vumc.nl/ws/portalfiles/portal/596201/complete+dissertation.pdf, last accessed on 17th August 2020.

After Trauma, managing scars, https://www.aftertrauma.org/symptoms-and-difficulties-after-trauma/managing-scars, last accessed on 17th August 2020.
Jagdeo J, Shumaker PR. Traumatic Scarring. JAMA Dermatol. 2017;153(3):364.
Monstrey S, Middelkoop E, Vranckx JJ, BassettoF, Ziegler UE, Meaume S, et al., Updated Scar Management PracticalGuidelines: Non-invasive and invasive measures, Journal of Plastic, Reconstructive & Aesthetic Surgery (2014) 67, 1017e1025.
Fu X, Dong J, Wang S, Yan M, Yao M, Advances in the treatment of traumaticscars with laser, intense pulsed light, radiofrequency, and ultrasound, Fu et al. Burns & Trauma (2019) 7:1.
Ngaage M, Agius M, THE PSYCHOLOGY OF SCARS: A MINI-REVIEW,PsychiatriaDanubina. 2018; 30(7): 633-638.
Scar Care, https://www.seattlechildrens.org/pdf/PE2043.pdf, last accessed on 17th August 2020.
Scientists find new ways to prevent skin scarring, https://www.sciencedaily.com/releases/2020/02/200204121455.htm, last accessed on 17th August 2020.
Seago M, Shumaker PR, Spring LK, Alam M, Al‐Niaimi F, Anderson R, et al., Laser Treatment of Traumatic Scars and Contractures: 2020 International Consensus Recommendations, Lasers Surg.Med. 2020; 52:96–116.