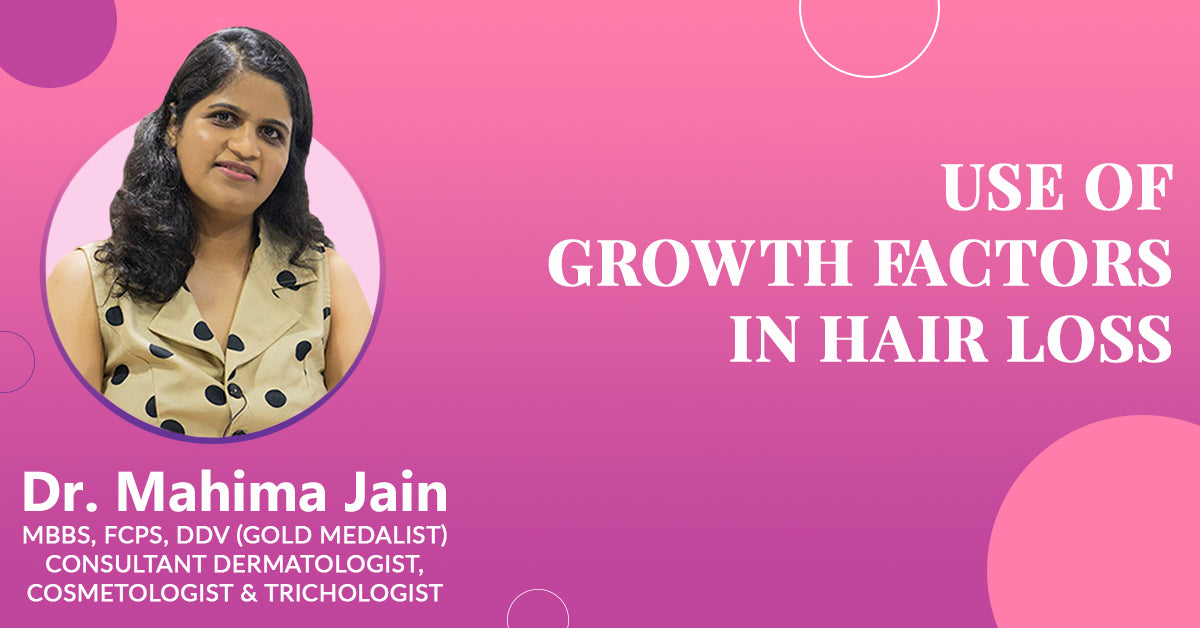 Use of growth factors in hair loss
Hair is a reflection of one's personality and style. It is one of the first things people notice as it expresses characteristics of the style and personality. Haircare may become increasingly vital throughout lives, particularly a person's age. Hair loss after a particular age is a common problem. It can be distressing and negative.
What is hair loss?
Generally, new hairs replace the lost hairs, but if this process is interrupted over a long time, it may be hair loss, also called alopecia. It can affect just the hair on the scalp. It may be a temporary or permanent situation. Not only older adults but children can also get affected by hair loss.1, 2
Some of the cause of hair loss includes: 1
Hereditary causes (most common, also known as Androgenetic alopecia)

Hormonal changes

Certain medical conditions and medications

Stressful situations
Depending on the causes, the pattern of hair loss may vary from person to person. It can develop gradually over the years or happen abruptly and affect just the scalp or the whole body.1 Dermatologist can identify the underlying cause and suggest appropriate treatment plans.
What are the treatment options available for hair loss? 3, 4
Minoxidil and finasteride are approved drugs available as topical solutions or foam. Additional therapies including prostaglandin analogues and hormonal therapy.
Surgeries such as hair transplantation and scalp reduction are generally reserved for patients who do not achieve success with medical therapy.
Biotechnological process:
Injections of protein-rich plasma (PRP) have also been done to encourage hair regrowth.
What are growth factors? 5, 6
The blood consists of three blood cells, namely red blood cells (RBC), white blood cells (WBC), and platelets. Out of which, platelets are responsible for promoting cell growth and regeneration. When it comes to hair loss, Platelet-rich plasma is believed to exert its effects via the delivery of concentrated growth factors to the hair follicle and surrounding area. There are α-granules present in platelets which secretes about 20 growth factors. Among those thought to stimulate hair regrowth are platelet-derived growth factors, transforming growth factors, vascular endothelial growth factor (VEGF), epidermal growth factor, fibroblast growth factor, connective tissue growth factor, and insulin-like growth factor IGF-1.
Role of growth factors in Hair regrowth5
These regulate cell migration, attachment, proliferation, and differentiation and promote extracellular matrix accumulation.

Promote hair regrowth by binding to their respective receptors expressed by stem cells of the hair follicle bulge region and associated tissues.

Upon binding to receptors, stem cells produce the new follicular unit and facilitating hair regrowth.
These growth factors are extracted to prepare platelet-rich-plasma (PRP) which is then injected into the scalp of patients.7
The PRP contains about 4-5 times more platelets than normal blood.8
PRP therapy process: 7
PRP therapy is a three-step process. Most PRP therapy requires three treatments 4–6 weeks apart.
Step 1
Blood is drawn from the patient's arm and put into a centrifuge (a machine that spins rapidly to separate fluids of different densities).
Step 2
After about 10 minutes in the centrifuge, the blood gets separated into three layers:
platelet-poor plasma

platelet-rich plasma

red blood cells
Step 3
The platelet-rich plasma is drawn up into a syringe and then injected into areas of the scalp that need increased hair growth.
Benefits of PRP therapy9, 10
Non-invasive method

It does not require any downtime or recovery
Results of some studies suggest the efficacy of PRP to
Promote the growth of new hair follicles

Increase number of blood vessels surrounding hair follicles

Improve hair growth and density
How long does the effect of PRP last? 11
The doctor's recommendations for how often a person should have PRP will vary depending on a person's condition and the results of their initial treatment. The doctor may suggest having maintenance injections every 3–6 months once hair loss is under control.
What are the possible side effects? 11
Because PRP therapy involves injecting the own blood into the scalp, one is not at risk of severe adverse effects.
Still, any therapy that involves injections always carries a risk of side effects such as:
Mild pain at the injection site

Scalp tenderness

Swelling

A headache

Itching

Temporary bleeding at the injection site
Conclusion:
If you are suffering from hair loss, you have many options, including medications and surgeries. Another consideration is PRP therapy. Studies believe that PRP is a safe and effective way of reversing hair loss and stimulating new hair growth. Consult the doctor to see which treatment or combination of treatments is the best choice for you.
References:
Hair loss, https://www.mayoclinic.org/diseases-conditions/hair-loss/symptoms-causes/syc-20372926, last accessed on 27th September 2021.
Everything You Need to Know About Hair Loss, https://www.healthline.com/health/hair-loss#TOC_TITLE_HDR_1, last accessed on 27th September 2021.

Hair Loss in Women, https://my.clevelandclinic.org/health/diseases/16921-hair-loss-in-women, last accessed on 27th September 2021
Hair Loss in Men and Women (Alopecia), https://www.medicinenet.com/hair_loss/article.htm, last accessed on 27th September 2021
Cervantes J, Perper M, Wong LL, Eber AE, Fricke AC, Wikramanayake TC, Jimenez JJ. Effectiveness of platelet-rich plasma for androgenetic alopecia: a review of the literature. Skin appendage disorders. 2018;4(1):1-1.
Gupta AK, Cole J, Deutsch DP, Everts PA, Niedbalski RP, Panchaprateep R, Rinaldi F, Rose PT, Sinclair R, Vogel JE, Welter RJ, Zufelt MD, Puig CJ. Platelet-Rich Plasma as a Treatment for Androgenetic Alopecia. Dermatol Surg. 2019 Oct;45(10):1262-1273.
PRP for Hair Loss, https://www.healthline.com/health/prp-for-hair-loss, last accessed on 27th September 2021.
Mao G, Zhang G, Fan W. Platelet-rich plasma for treating androgenic alopecia: a systematic review. Aesthetic plastic surgery. 2019 Oct;43(5):1326-36.
The Many Benefits of PRP Hair Treatment, https://www.hairlossdoctors.com/blog/2015/08/01/the-many-benefits-of-prp-161131, last accessed on 27th September 2021.
Gentile P, Garcovich S, Bielli A, Scioli MG, Orlandi A, Cervelli V. The effect of platelet‐rich plasma in hair regrowth: a randomized placebo‐controlled trial. Stem cells translational medicine. 2015 Nov;4(11):1317-23.
Can PRP treat hair loss? , https://www.medicalnewstoday.com/articles/326294, last accessed on 27th September 2021.