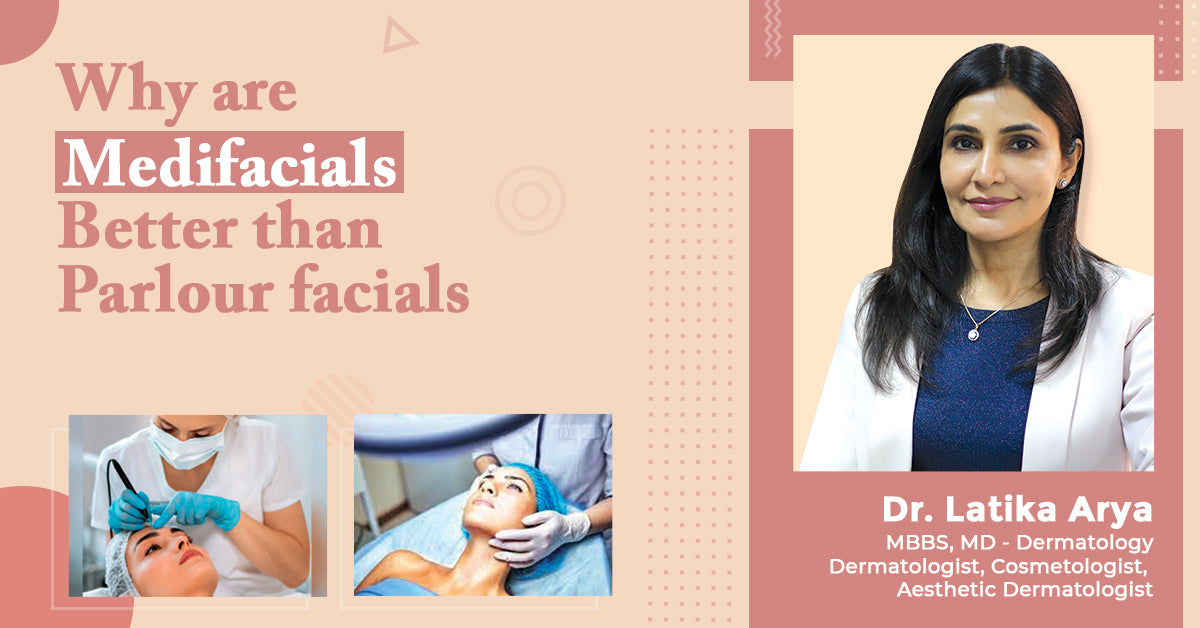 Why are Medifacials Better than Parlour facials?
Skin is an important organ that should be protected against damage from the sun's harmful rays, pollution, infections, and diseases. Thus, it is vital to keep the skin clean and to nourish and repair it from time to time to protect it. There are many beauty treatments available which not only make the skin look better but also healthier and better within.1 
Every woman loves a day at the salon and chooses facials to pamper herself, as they have benefits that are aesthetic and psychological.2 Salon facial involves the use of various creams and massages to soothe the skin and reduce the skin's dullness.4 It not only improves the skin look but, it also takes that back-breaking stress off the shoulders.2 Facials rejuvenate the skin, give it a glow and make it soft for a few days.  But what are the options to get a long lasting glow?5
Many types of facials are available in the salon, such as fruit facial, gold facial, diamond facial, and more. But, do these superficial facials help the skin?3 It has been said that regular facials will make the skin look younger, but is it true?
The truth is that no facial can turn back the clock. Nonetheless, they can temporarily smoothen the wrinkles and make the skin look plumper using heavy moisturising masks and creams. If well formulated, most of these therapies can boost skin's moisture, making it temporarily look significantly younger. But, no one wants short-term results.6
Shortcomings of the regular facials –
When done incorrectly can damage your skin.

Creams that are used can cause harsh exfoliation and can damage the skin barrier.

Creams massaged onto the skin can block pores, which result in active breakouts, gives temporary results, and generally lasts for a few days.

Have to research the products they use on skin and do a patch test to see if one is sensitive to any ingredients.

7
Do these facial products actually help the skin? Not very much. Here, Medi-facials come to the rescue! 3,5
"To bring  glow and to renew the skin, medi-facials are the right choice as they penetrate the skin layers and have a better and long-lasting effect." 4
What are Medi-facials?

Medifacials or Medical facials are facials performed under the supervision of a dermatologist. They use ingredients that are skin-friendly and medically proven to give long-term benefits to the skin. Unlike salon facials, they are based on vitamins, antioxidants, alpha hydroxy acids (AHAs), and not chemical bleaching principles.5
They give an instant boost, fresh and healthy-looking skin, rejuvenate dead and dull skin as well as anti-aging benefits in the long run, with no side effects.4,5 They hydrate the skin making it soft and supple and give a vibrant look.3 The bonus point with medifacials is that they are safe for sensitive skin, so one does not have to worry about a red and swollen face.
Medi-facial are for men also! Due to their thicker skin, they need more intense facials to penetrate deep enough into their skin.5
What are the options for Medi-facials?

Since every individual's skin is different – in color, pigments, types, and demand of their skin, one should consult an expert professional before choosing medifacial for significant results. Some of the most commonly used medifacials are:
Hydrafacial

Photo-facial

Oxyrevive facial

Vampire facial

Anti-acne facial

Anti-ageing facial

Skin whitening facial

Skin rejuvenation facial

Collagen facial

Fruit acid peels
These facials are great for matured skin as they slow down the ageing process and help regenerate the elasticity, which gives a new life to dull and tired skin.8 So the next time when salon facial leaves you unsatisfied, consider Medi-facial to treat skin the right and modern way! 5
What are the benefits of Medifacials?
The reasons why you need a medi-facial and why it is better are –
Provides instant brightening effect and anti-aging benefits without any side effects.

Some medi-facials eliminate the bacteria that cause inflammation during breakouts.

Reduces pore size, minimizes oil production, and improves healthy cell growth

Fights aging effects such as fine lines, smile lines, wrinkles, and dull skin.

4

Relaxing effect on skin when proper pressure is applied to the pressure points.

Stress-buster: Cure any breakouts and renew the skin from within.3

Highly beneficial and gives long-lasting results.

8

Nourish the skin with vitamins for a healthy glow

Needle-free deep skin treatment and Painless

No irritation or redness

Short and pleasant

3
The price factor
Since medifacials are 'expertise-based' facials tailored to suit the needs of individual skin, the price may vary as per the skin needs and type. Medi-facials start from INR 2,500-3,500. Medical facials may seem to be expensive, but they are more cost-effective in the long run as they work on the cause of the skin symptoms. 
So, the bottom line, Medi-facials, as the name suggests, are like the medical procedures which tune the individual skin while salon/spa facials involve unwinding and pampering yourself. So if one has to repair and rejuvenate the skin, Medi-facials are the right option. 9
References: