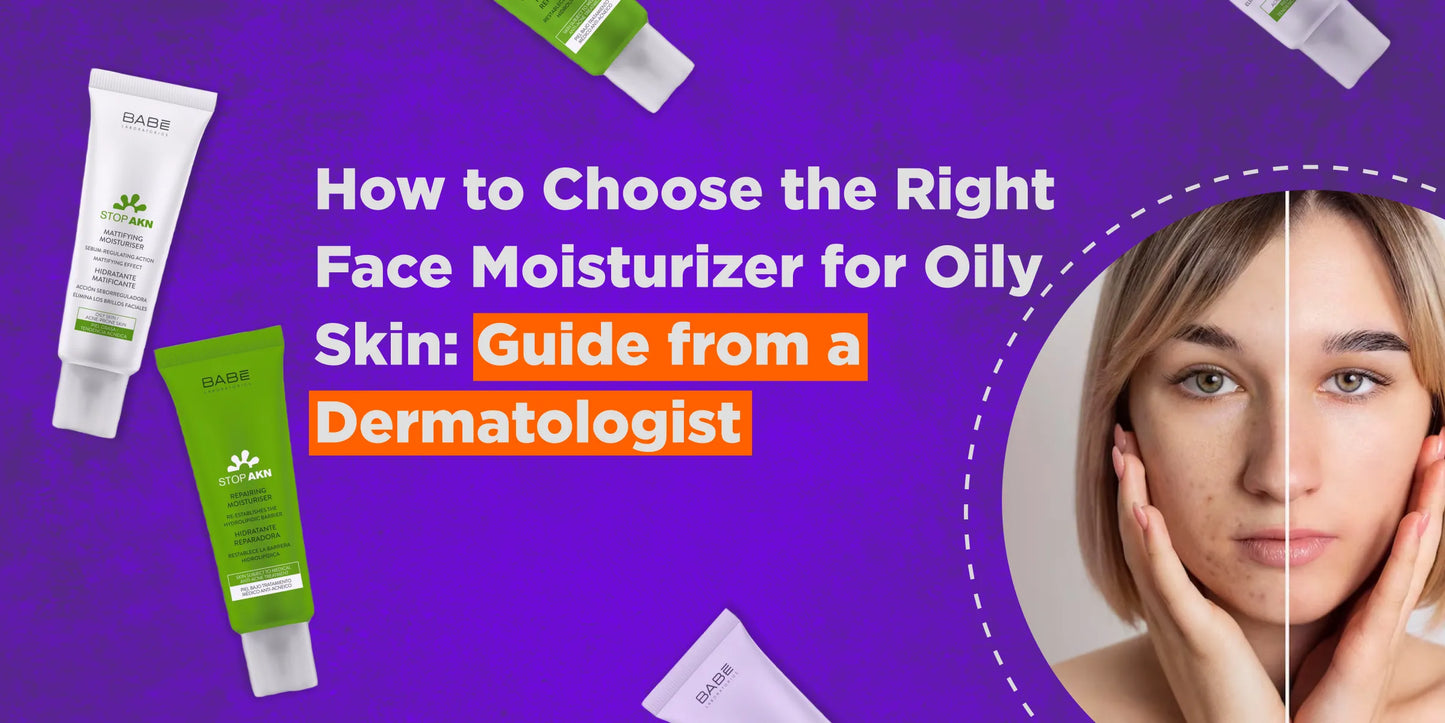 How to Choose the Right Face Moisturizer for Oily Skin: Guide from a Dermatologist
30 Second Summary
The significance of moisturizers and their necessity in your daily skincare regime 

 

Why do people with oily skin and pimples need a Moisturizer

 

Selecting a moisturizer suitable for oily and acne-prone skin

 

Tips to use varied products to avoid acne breakouts

 

The best ways to moisturise oily skin during summers 

 

Dermatologist recommends the best face moisturizer for oily skin for both men and women

 
The Essence of a Face Moisturizer For Oily Skin - A Source for Achieving Acne-Free Skin
As the largest organ of our body promising to ensure protection at any cost, the skin is what many neglects for the most part. The importance of a daily moisturizer for oily skin in a skincare regime is highly beneficial since it paves the way for achieving healthy, acne-free skin. Besides simply moisturizing, the right product does a great wonder in enhancing the rejuvenation and elasticity of your skin. 
In modern times, many dermatologists witness patients with oily skin who are sceptical about using moisturizers. It brings the common misconception of people not needing a face moisturizer for oily skin. But the fact says everyone should moisturise daily, regardless of skin type.   
Moisturizers for oily skin provide lightweight hydration without clogging pores. They often contain hyaluronic acid, niacinamide, and salicylic acid to regulate oil production, control shine, and maintain a healthy balance, promoting a clear and comfortable complexion.    
In this blog, we will guide you on choosing the best face moisturizer for oily skin recommended by a dermatologist, how selecting the right product can benefit you in providing acne-free skin and why you should keep exploring your oily skin routine during different seasons to avoid any mess.
"Unlocking the Secret: The Crucial Role of Face Moisturizers for Oily Skin and Pimples at Individual level"
The list is endless when discussing why your skin may be oily. It can cause stress, humidity, fluctuating hormone levels, or even your genes. Clogging pores due to excessive sebum secretion leads to breakouts, which makes you wonder about a face moisturizer the least. But the bomb of truth is that you need a moisturizer cream for oily skin that perfectly suits your skin type. 
Many dermatologists have received patients who wish to dry out their oily skin, making the oil glands produce even more oil. The skin's condition further deteriorates by skipping a moisturizer, leading to dry patches and dehydration; using harsh products strips off the natural retaining level, thus causing breakouts.  
To avoid this nightmare, a Daily Moisturizer for Oily Skin leads the market of beauty and dermatology today, covering up your face and protecting it from harmful sun rays, thus making it essential for your skin.
"Navigating the Maze: A Guide to Choosing the Perfect Moisturizer for Acne-Prone Skin"
A moisturizer provides the necessary hydration to maintain a healthy skin barrier, and individuals with oily skin need hydration to preserve their skin's resilience. Secondly, a moisturizer helps control excess oil production, preventing the skin from becoming overly greasy, which could exacerbate acne issues.  
Furthermore, the best face cream for oily skin is a base for makeup application. Makeup adheres better to a matte surface and stays on longer, making it an ideal choice for those who prefer or need to wear makeup while dealing with oily skin and acne. Consistency is vital in skincare, therefore when choosing the Best Face Cream for Oily Skin:  
Pick a lightweight product that is lotion or gel based.

 

Check for hyaluronic acid or ceramide that helps in hydration. 

 

Take note of the moisturizers that say "non-comedogenic" or "oil-free." These formulations help in avoiding breakouts. 

 
Refer to the chart below for a better understanding of the products that you should make use of for your skincare routine:
Products 

What It Does  

The SPF 30 sunscreen shields the skin by blocking about 97% of UVB rays, reducing potential skin damage, helping you feel the warmth of summer and keeping the sunburn at bay. 

The SPF 50 sunscreen protects the skin by blocking around 98% UVB rays, reducing sunburn risk and skin damage. 

 
 

BABÉ Purifying Cleansing Gel (100/200 ml) 

 

This gel thoroughly cleans the skin by removing dirt, oil, and impurities, promoting freshness and clarity. 

This product guarantees to moisturize your skin deeply, balancing hydration and providing a lightweight, non-greasy feel. 

The micellar gel cleanses skin by attracting and removing dirt, oil, and makeup without drying or harshness. 

This spray is highly beneficial for eliminating blackheads, pimples, unwanted blemishes and excessive oil from the surface of your skin. Containing aloe vera and glycyrrhizinic acid, it promises to give you an even skin tone. 

This non-comedogenic product is the best face moisturizer for oily skin and offers a non-greasy after-feel. With its mattifying powder, you can unleash a natural radiance on your face throughout the day.   

 

 
 

BABÉ Micellar Water with Prebiotic Active (100/250 ml) 

 

With the goodness of prebiotics, this seemingly water-based product cleanses and removes impurities from the face while supporting healthy microorganisms for balanced skin. 
"Summer Skincare Secrets: Effective Moisturizing Techniques for Oily Skin"
 [Infographic]
During the summer, effectively using the best face cream for oily skin while controlling sebaceous gland activity requires a strategic approach. Balancing hydration without exacerbating excess oiliness is critical to maintaining a healthy complexion. Here are some valuable tips to achieve this balance:  
"Expert Dermatologist Recommended: Top Face Moisturizer for Oily Skin"
Men and women with oily skin often struggle with managing their skin's excess oil production and the resulting skin issues. A Moisturizer Cream for Oily Skin is crucial to their daily skincare routine due to its specific benefits tailored to their skin type and concerns. 
The BABÉ Mattifying Moisturizer by Kshipra Health Solutions – Authorised Importer of BABÉ products helps control oil production and maintain a balanced complexion. It contains ingredients that absorb excess oil on the skin's surface and give a non-greasy appearance, nourishing the texture of your skin.
This Face Moisturizer for Oily Skin is formulated with 5% Cytobiol Iris, 4% Niacinamide, 2% Mattifying Powders, 0.25% Vitamin E, 0.2% Salicylic Acid and 0.05% Zinc PCA.  
Cytobiol Iris heals inflammatory lesions by fighting bacterial infections,

 

Niacinamide stimulates collagen, reducing transepidermal water loss,

 

Mattifying powders help eliminate shine on the surface,

 

Vitamin E protects from free radical reactions and oxidation,

 

Salicylic Acid having keratolytic action removes dead skin cells,

 

Zinc PCA prevents formation of inflammatory lesions and improves active absportion

 
Unleash Radiance with
Daily Face Moisturizer for Oily Skin
 by Kshipra Health Solutions
Regularly using a mattifying moisturizer cream for oily skin as part of a skincare regime helps maintain a balanced complexion, reduces breakouts, and promotes overall skin health. This moisturizer becomes an indispensable tool in achieving more transparent, healthier skin by addressing the unique needs of oily and acne-prone skin. 
A mattifying moisturizer is considered the most dependable option for individuals with oily skin due to its unique formulation that addresses the specific needs of this skin type. Oily skin produces excess sebum, creating a shiny appearance and potential breakouts. A mattifying moisturizer is designed to combat these issues effectively. 
This moisturizer contains ingredients that regulate oil production and decrease pore appearance, resulting in a matte finish. Silica, kaolin clay, and salicylic acid are often included to absorb excess oil and prevent clogged pores. Unlike heavy or oil-based creams, a mattifying moisturizer is lightweight and non-comedogenic, which won't clog pores or exacerbate oiliness. 
Moreover, this specialized moisturizer maintains a delicate balance, providing hydration without adding excess shine. It also acts as a primer, creating a smooth base for makeup application that lasts longer on oily skin. A mattifying moisturizer can contribute to a clearer complexion and reduce acne risk by controlling oil production and reducing shine. 
The Bottom Line
In summary, a moisturizer is tailored to oily skin's unique needs, effectively controlling excessive oil secretion, minimising pores, preventing breakouts, and promoting a matte, shine-free appearance. It offers an effective solution for those seeking a well-balanced and nourished complexion without the downsides of excessive oil production. 
With Kshipra Health Solutions' Moisturizer Cream for Oily Skin, you can unleash a relaxing experience for your facial appeal, making it less likely to witness breakouts and unwanted greasiness. Contact us today to learn more about the Best Face Moisturizer for Oily Skin. 
FAQs on Face Moisturizer for Oily Skin
1. Is it essential to moisturize oily skin at night?
A daily moisturizer for oily skin is integral to helping the skin regulate oil production. Since not moisturising the surface can naturally trigger the skin to secrete more oil, it is recommended to regularly clean and nourish the skin, even at night, to keep your face smooth and ward off wrinkles and visible fine lines.  
2. What causes breakouts on oily skin?
Acne arises from a combination of hormones, excessive oil secretion and bacteria or dirt caused by pollution. The release of sebum can't escape the oil, dead skin and germs, clogging the follicles.
3. What ingredients make for the right moisturizer for oily skin?
An effective moisturizer should be non-comedogenic, lightweight, and oil-free. It should contain hyaluronic acid, glycerin, niacinamide, and salicylic acid. These regulate oil production, provide hydration without clogging pores, and help maintain a balanced complexion, reducing excess shine and promoting skin health.
4. Can applying a mattifying moisturizer clog pores?
No, a mattifying moisturizer will not clog pores because of its lightweight formula. Cutting down oily patches with a moisturizer cream for oily skin maintains hydration and enhances nourishment, avoiding excess shine on the skin's surface. 
5. Will a moisturizer cream cause more pimples?
Moisturizer creams typically don't cause more pimples. The right moisturizer can help balance oil production and prevent dryness, reducing the likelihood of breakouts. Opt for non-comedogenic formulas and avoid heavy or oily products. Proper cleansing and selecting the right moisturizer for your skin type are essential for healthy skin.
6. How vital is moisturizer for oily skin?
Moisturizer remains crucial for oily skin. Although counterintuitive, it helps regulate oil production, preventing overcompensation. Non-comedogenic, oil-free formulas are advisable. Balancing hydration supports healthier skin, limits breakouts, and maintains a smoother complexion. 
You May Also Like
HOW TO TREAT AND GET RID OF OILY SKIN APPEARANCE
EXPERT TIPS TO MANAGE OILY SKIN AND FIGHT ACNE
SAY GOODBYE TO OILY FACE: THE IMPORTANCE OF USING FACE MOISTURIZER FOR OILY SKIN