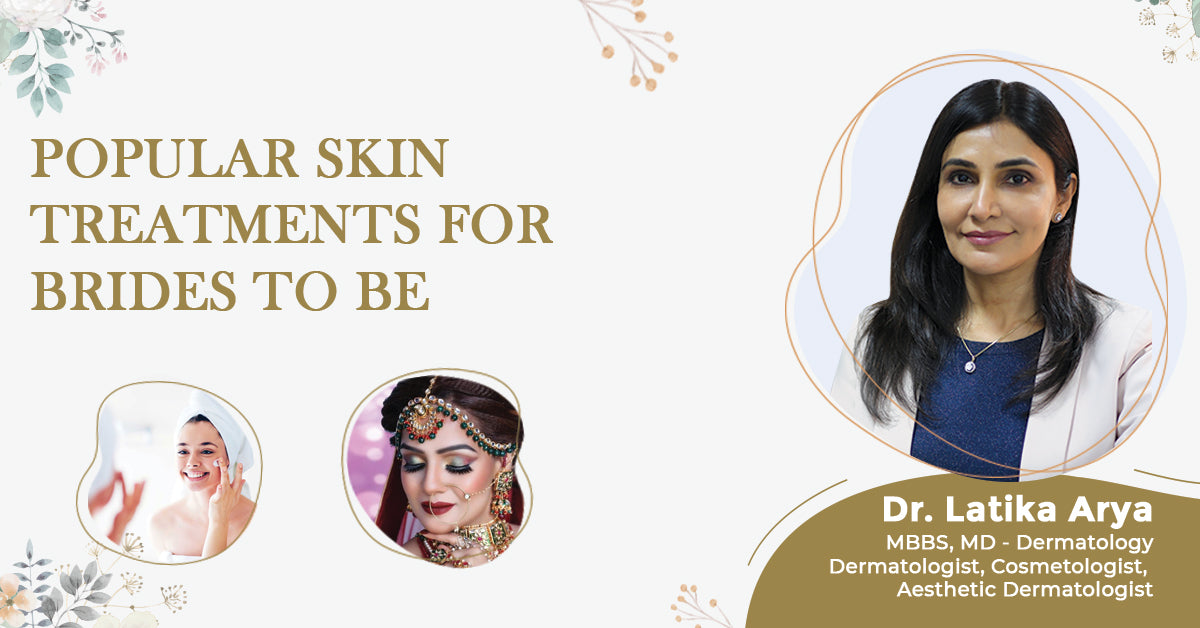 Popular skin treatments for Brides to be
Since the wedding season is in full swing, here is what the bride-to-be can do to make the skin glow on her wedding day. With countless treatments available for the brides, there are many options that one can choose when the wedding is around the corner.1
The most important things to be considered are:
Work in advance on the body, have a disciplined lifestyle and eat healthily.

Stress and tiredness often tend to have a direct impact on our face.

Detox, eat healthy food and consume lots of natural liquids.

2
Some of the therapies that can be tried which are simple and will not consume much of time are-
Oily skin
Making a face look flawless with an oily complexion can sometimes be a problem.
Go on a fruit detox diet until the wedding week
Switch the regular meals with a fruit diet to get the skin glowing on the wedding day. Fruits help to detox the system and clear excess oil from the pores, which makes the skin glow.
Scrub the face twice a week
Oily skin is prone to acne. Thus it is best to scrub the face at least twice a week. It removes the excess oil from the face and helps get rid of blackheads and whiteheads, which is a significant problem with the oily skin.
Apply a light-weight lotion during the day and night
Skin is hydrated with the application of a light-weight oil-free lotion twice a day. It will take care of excess sebum flow, thus decreasing the risk of developing acne, while soothing the skin.
Hydrating face masks through the week
A hydrating face mask will nourish the skin and will also reduce pimples and blemishes if any. It will make the skin less oily, smooth and flawless while applying makeup on a grand day. Seaweed, aloe vera face packs are perfect for the oily skin.1
Masks to reduce oiliness and make the skin glow:
Mix 2 tsp fuller's earth, 1 tsp fresh mint paste, a pinch of camphor and rose water to mix to a smooth paste. It increases blood circulation and also has anti-bacterial properties that will help reduce oiliness, dissuade pimples and give a porcelain skin. Use it three times a week.
To keep the skin clean and oil-free at all times, the skin can be wiped with rose water.2
Dry skin
It is vital to keep the skin hydrated internally and externally. For this, drink at least eight glasses of water daily and include fresh fruits, green veggies, nuts, seeds and whole grains in the diet
Use a gentle cleanser
Instead of a regular face wash, use a gentle soap-free cleanser to avoid over-drying the skin.
Exfoliates with AHAs
A mild scrub with Lactic acid is suitable for those with dry skin. It helps fight dry and dehydrated skin and moisturizes the skin. It reduces the skin flakiness and combats an uneven complexion.
Apply a moisturizer at night
One can use a light-weight moisturizer during the day while, at night, a slightly more intensive moisturizer can be used to nourish the skin well. 1
Masks for the dry skin
Use half mashed avocado, 1 tsp honey, a paste of 2 walnuts and two almonds. Mix all the ingredients and apply to cleansed skin. Leave for 15 minutes and wash with cold water and pat dry.
Combination skin
Having a combination of both dry as well as oily skin is slightly tricky as taking care of it would be a little tedious.
Use a mud face pack every week
It balances the oil around the T-zone area on the face and controls excess oil. It hydrates the face and helps fight dryness in the other regions on face.
Get a hydrating mask done once in every two days
It will nourish the face and moisturize it. Blood circulation also increases, which in turn control the excess oil that accumulates around the T-zone.
Exfoliate with natural ingredients
It is best to use a natural exfoliant for the combination skin which will not make the skin too dry or too oily. A walnut-orange peel scrub is best for those with combination skin and can be easily made at home.
Apply retinol daily
Apply retinol before going to bed on the face. It will help remove excess oil and moisturize the other dry areas. It also gives a smooth, soft and flawless complexion.1
References:
Pre-wedding skincare for every skin type, https://timesofindia.indiatimes.com/life-style/beauty/pre-wedding-skin-care-for-every-skin-type/articleshow/45219001.cms, last access on 4th November 2020.
Pre-Bridal Skin Care Tips: Use These Natural-Ingredient Face Masks For Dry, Oily And Normal Skin, https://food.ndtv.com/beauty/pre-bridal-skin-care-use-these-natural-ingredient-face-masks-for-dry-oily-and-normal-skin-1956905, last access on 4th November 2020.