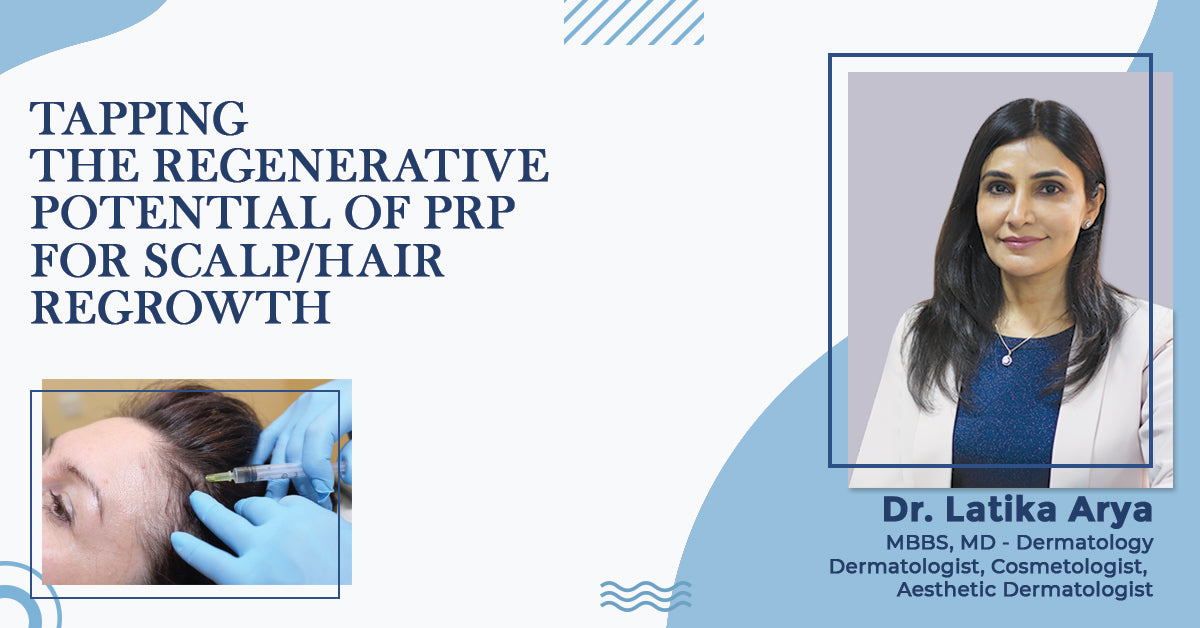 Tapping the regenerative potential of PRP for Scalp/Hair regrowth
Hair with sufficient volume, movement, and shine is what most people consider healthy—however, Hair loss- whether thinning or baldness, can happen for a variety of reasons. Losing hair is a common occurrence. Generally, new hair replaces the lost hair, but this may not always occur. Hair loss can advance gradually over the years or happen abruptly. Hormonal changes, mineral deficiency, medications, stress, scalp infections and genetics are some of the leading causes of hair loss.1
Nowadays, many hair loss treatments with variable levels of reliability and success are performed. But, some are established on a much more robust scientific data than others. One of these treatments is platelet-rich plasma (PRP).
Procedure for platelet-rich plasma3
PRP is a new, minimally invasive, office-based procedure used to treat hair loss, typically secondary to androgenic alopecia (AGA). PRP therapy is a three-step procedure that can help heal bodily tissues, including follicles.
Steps involved in PRP therapy are (Fig.1):
Step 1 involves the collection of patient's blood under all aseptic conditions, in tubes lined with an anticoagulant.
Step 2 includes placing blood into a centrifuge, a machine that spins rapidly to separate fluids of different densities. After around 10 minutes, blood will be divided into three layers:
Platelet-poor plasma (PPP) is in the supernatant

Platelet-rich plasma is a buffy coat layer that appears in the middle where platelets and white blood cells are concentrated

Red blood cells at the bottom
Step 3 involves an injection of PRP into the scalp. The time for platelet concentrate preparation can typically be completed in less than 1 hour. PRP is drawn up into a syringe under all aseptic precautions and then injected into affected parts of the scalp that require better hair growth using a small-gauge needle, such as a 30-gauge needle.
The usual treatment plan involves more than one session, around one month apart, between every three to six months to keep up the results.3
Platelets and hair growth- what's the connection?
Platelets are one of four main components of blood responsible for promoting cell growth and regeneration. When it comes to hair loss, PRP is believed to exert its effects via delivery of concentrated growth factors to the hair follicle and surrounding area.4
The activation of platelets releases numerous growth factors which stimulate hair regrowth via acting on the bulge area of the hair follicles. PRP stimulates stem cell differentiation of hair follicles.5 Prolongation of the proliferative anagen phase of hair follicles has also been observed (Fig.2).6 PRP also strengthened the dermal papilla fibroblasts and increases blood supply to the hair follicle.5

For all these reasons, it is reported that PRP could serve as a potential treatment for androgenic alopecia.
Side effects
PRP has some possible side effects from injections and from the procedure itself, including:7
mild pain at the injection site

scalp tenderness

swelling

headache

itching

temporary bleeding at the injection site
Conclusion:
PRP continues to evolve as a consequential therapeutic tool in dermatology. Top evidence-based dermatologic indications for PRP include hair restoration and skin rejuvenation, as well as improvements in acne scars. PRP is a very promising futuristic therapy. It is straightforward and easy to use, readily available, uses own patient blood, potential cost‑effective, and considered a very safe treatment for hair restoration.
Reference:
What to Know About Receding Hairline for Men and Women, https://www.verywellhealth.com/receding-hairline-overview-4684593, last accessed on 9th November, 2020
Kothari K. Role of platelet-rich plasma: The current trend and evidence. Indian J Pain 2017;31:1-6.
Justicz N, Derakhshan A, Chen JX, Lee LN. Platelet-Rich Plasma for Hair Restoration. Facial Plast Surg Clin North Am. 2020 May;28(2):181-187.
Gupta AK, Cole J, Deutsch DP, Everts PA, Niedbalski RP, Panchaprateep R, Rinaldi F, Rose PT, Sinclair R, Vogel JE, Welter RJ, Zufelt MD, Puig CJ. Platelet-Rich Plasma as a Treatment for Androgenetic Alopecia. Dermatol Surg. 2019 Oct;45(10):1262-1273.
Emer J. Platelet-Rich Plasma (PRP): Current Applications in Dermatology. Skin Therapy Lett. 2019 Sep;24(5):1-6
Elghblawi E. Platelet-rich plasma, the ultimate secret for youthful skin elixir and hair growth triggering. J Cosmet Dermatol. 2018 Jun;17(3):423-430.
Can PRP treat hair loss?, Available at: https://www.medicalnewstoday.com/articles/326294#is-it-effective, last accessed on 9th November, 2020