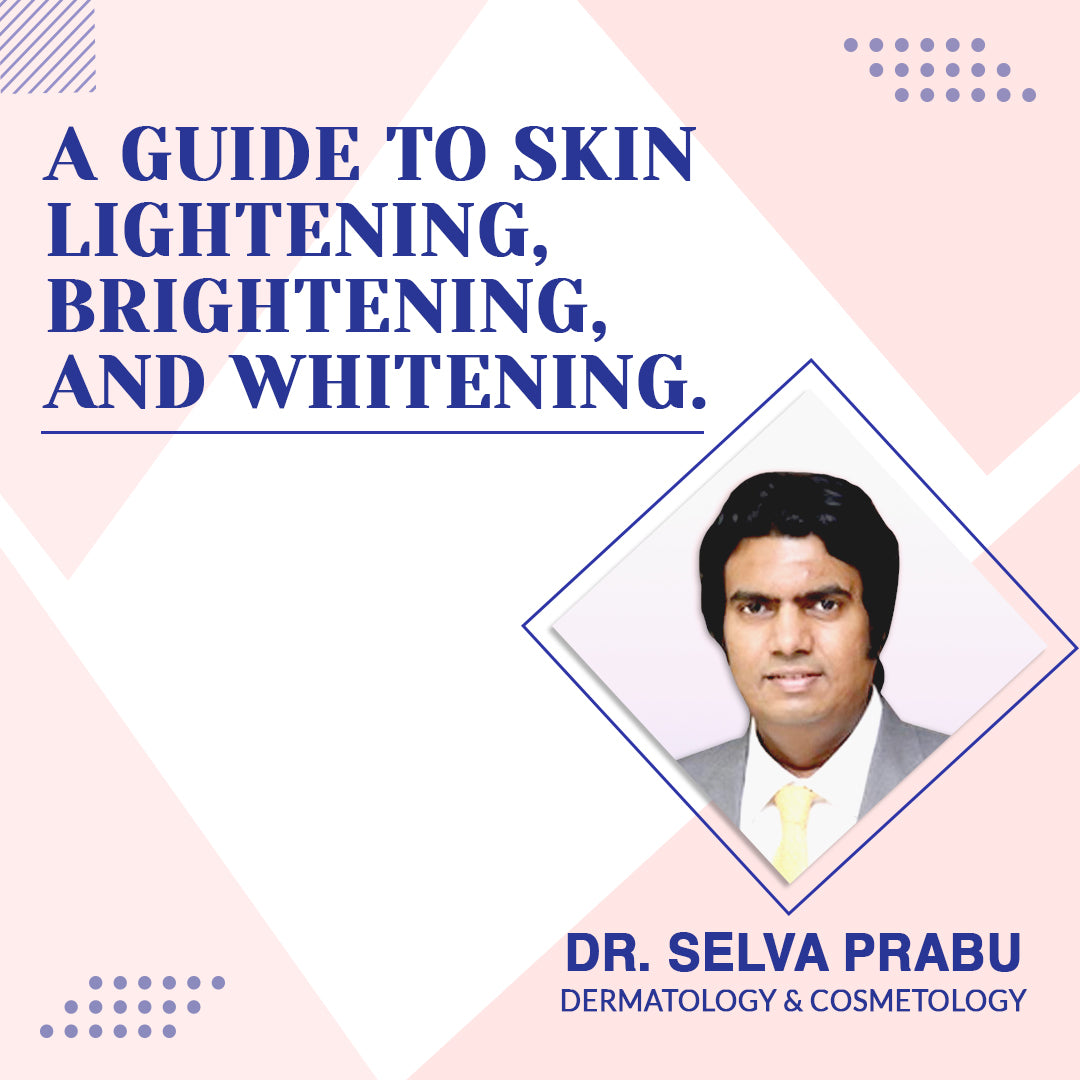 A Guide to Skin Brightening, Lightening, and Whitening
Having an even skin tone and a bright, healthy glow is everyone's dream when it comes to their skin, regardless of the pretty shade they were born with. Saying this is simpler than doing it. Everything, including the diet, exercise, skincare regimen, age, heredity, and hormones, has an impact on skin health, resulting in blemishes or spots that are darker than the surrounding skin.
How can one thus take care of the skin to reduce undesirable conditions and promote the appearance of the best skin? Skin whitening is a lengthy, costly process with long-lasting results. It denotes a profound shift in a person's outlook on the future. Therefore, it is important to review the basis for skin lightening before proceeding.
Skin Lightening or Brightening or Whitening
In addition, skin lightening has other benefits: 2
Improve the appearance of acne blemishes
It may help fade acne scars and reduce red/dark areas that remain after acne has healed. 
It can reduce dark spots on the skin caused by sun damage, aging, and hormonal changes.  It also lessens localized skin discoloration due to melisma, age spots, and post-inflammatory hyperpigmentation.
Skin lightening can even out skin tone by minimizing areas of hyperpigmentation, and can also help reduce the appearance of freckles.
How do they work?
Skin lightening creams target skin cells to decrease the level of melanin. It is a pigment that gives skin its color. Those with dark complexion have more melanin and the quantity of melanin determines the color of a person's skin. Melanin is manufactured by cells called melanocytes and its quantity in a person's skin depends upon the genetic buildup. The production of melanin is affected by exposure to the sun, the degree of damaged skin, and exposure to chemicals. Skin lightening creams contain ingredients that work to decrease the concentration or production of melanin in the skin. 3, 4
These include the use of products that comprise creams, lotions, oils, and serums. Creams and oils are typically thicker and better for dry skin. A lighter serum could be preferable if the skin tends to be on the oily side. One can also opt for face-cleansing gels which are a great solution for making your skin glow, making you look young, and keeping your face wrinkle-free. Specific face moisturizers for oily skin are also a great choice because they remove excess oils, leaving a smooth, non-greasy skin texture behind. 
Professional treatments like laser therapy can also be done to lighten the skin.5
Skin lightening products are also known as bleaching creams, whiteners, skin brighteners, or fading creams.
Active ingredients
Several active ingredients can fade areas of hyperpigmentation. Some ingredients also reduce pigmentation in the skin more generally. Skin lightening products may contain:
In the field of skin care, vitamin C is a prominent ingredient. This remarkable nutrient's anti-inflammatory and antioxidant properties are known to moisturize the skin, enhance skin tone and texture, and lessen the indications of aging. Topical vitamin C works to smooth the skin, minimize fine wrinkles and dark spots, and defend against free radicals by penetrating right into the uppermost layers of the skin. Face serums and moisturizers contain vitamin C. Since serums are more concentrated than moisturizers and absorb more quickly into the skin, more skincare professionals advocate using vitamin C serums.6
Hydroquinone is an effective depigmenting agent found in many skin bleaching products. The recommended concentration of 2% solution is available over the counter, or a prescription for a stronger 4% solution can be obtained. Results are usually visible within 3-6 months of using hydroquinone one to two times per day. However, it can increase the sensitivity to the Sun and may cause skin irritation, burning, and redness.7, 8
Retinoids, a product derived from vitamin A, can also be used to lighten dark spots. They act by accelerating the turnover of surface skin cells. They can include retinol, adapalene gel, tazarotene, and tretinoin. These are generally safe. According to a 2021 study, retinoids can reduce post-inflammatory acne marks as well as hyperpigmentation in skin of color. It may dryness, peeling, and stinging.
In a 2020 study, researchers discovered that niacinamide could reduce hyperpigmentation when combined with tranexamic acid, kojic acid, and hydroxyethyl piperazine ethane. The study suggests that combining these products with antioxidants could help with hyperpigmentation in people of color's skin.7
Procedure to use skin lightening products
Generally, use differs from product to product. These creams are usually applied only to dark areas of skin once or twice daily.
It is best to apply a skin whitening lotion according to the instructions provided by a doctor or listed on the container. This typically entails:2
Apply the product with clean hands or a cotton pad, carefully.
Avoid coming into touch with the skin, eyes, nose, and mouth.
Wash your hands well after use.
Keep the treated area away from other touches.
Use sunscreen to prevent UV-induced skin deterioration.
Laser Skin Lightening
Spots of dark skin or other skin imperfections can also be lightened with a laser. It either removes the skin's outer layer or harms the cells that make melanin to achieve its desired effects. Some people may experience success with laser skin lightening, while others may experience no change or only temporary results. 
In the session, a person will receive special eyewear to shield the eyes from the laser, and the skin will be in contact with a tiny handheld laser device. This might experience like a rubber band snapping against the skin. A jet of cold air could be blown across the skin to keep the skin cool throughout the procedure. Every session will run between 30 and an hour.
Conclusion:
Skin lightening creams might be an alternative to help with any undesired skin discoloration or spots when taken under the guidance of a healthcare expert. But be honest about the limitations of these procedures or products' ability to lighten skin tone or lessen the visibility of dark patches.
Before using any skin-lightening cosmetics, always consult your doctor or dermatologist. They can ensure that the cream you're applying is both safe for you and suitable for your skin's state.
References: